Eastern Manitoba Square and Round Dance Association
LEGISLATIVE ASSEMBLY OF MANITOBA November 23, 2018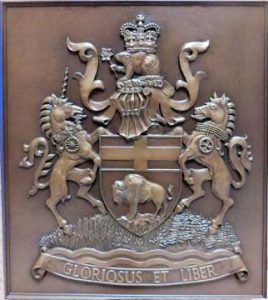 Paws N Taws Square Dance
Mr. James Teitsma (Radisson):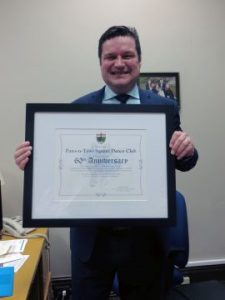 Madam Speaker, I think you'd really enjoy square dancing. And, you know, I think the member for Dauphin (Mr. Michaleski), you would really enjoy square dancing too. And the member for Burrows (Ms. Lamoureux)–she's nodding–I think she'd enjoy square dancing too. Perhaps even the member for Concordia (Mr. Wiebe). What do you think?
I suspect that the clerks and the pages and the Legislative staff and almost every MLA here would really enjoy square dancing, because, if you can move around and listen to some simple instructions, I'm pretty sure you'll find that square dancing is a lot of fun.
So I recently discovered this first-hand, because one of the oldest, and oldest continuously running square dancing groups in Manitoba recently celebrated their 60th anniversary, and they invited me to join their celebration.
Paws N Taws square dance club has been active in Windsor Park and the surrounding area ever since the community was first established in the late 1950s. A number of couples in the area wanted to get together and enjoy each other's company while staying active and meeting new people, because that's what Paws N Taws is all about.
And like so many square dance clubs, Paws N Taws' membership numbers have risen and then fallen but, more recently, risen again. And today they are a healthy club with dozens of members coming out every Thursday night to the Norwood Legion, on Marion Street, to dance. And, if you want to come check it out, Madam Speaker, and everybody else here, you are welcome to do so. The first three dances are free, and they run from 7 p.m. to 9:30 p.m.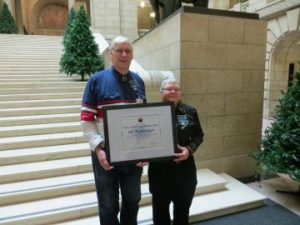 Square dancing is for people of all shapes and sizes and ages. Paws N Taws' oldest active member, Hilaire van der Kerkhove, is 88 years young. Their youngest member, Liam Baskerville, is 13, and even better is that Liam's partner is his great-grandmother, Yvette Baskerville, who has joined us in the gallery today, and her age shall remain unnamed.
As you can see, many members of the Paws N Taws square dancing club on their 60th anniversary.
Mr. Teitsma: Seeking your indulgence, Madam Speaker, and before my guests leave, I just wanted to request leave to have all of their names included in the Hansard.
Madam Speaker: Is there leave to include the names of the guests in Hansard? [Agreed]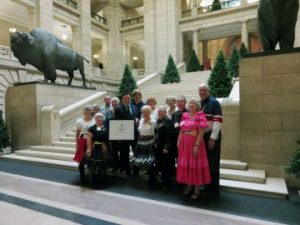 Paws N Taws: Yvette Baskerville, Jeanne Campbell, Claudette Carrière, Sam Dunn, Joan Fleury, Betty Kernoski, Lavern Manson, Grace Melnyk, Karen Mozdzen, Jean Pelletier, Lucie Pelletier, Lois Saunderson, Dale Will.
If you are looking for documents from our archives then following the link